Maesbury Primary School expected to close in July 2012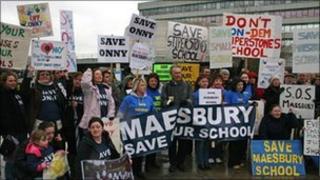 A Shropshire school is almost certain to close at the end of the academic year, its head teacher has said.
Maesbury Primary School, near Oswestry, was one of six schools approved for closure by Shropshire Council earlier in the year.
At the time the school said it hoped to apply for academy status, which would remove it from local authority control.
But head teacher Rosemary Finney said the school had "run out of time" and was forced to concede defeat.
She said: "Governors have worked incredibly hard to keep the school in the community and tried every possible avenue.
"First of all we tried very hard to defend the reasons why we felt the council had made the wrong decision. In April that swung around to the possibility of us applying for academy status.
"This pressure on us to do things quickly hasn't allowed us to have meaningful discussions [about academy status], because we've always had this backdrop of the closure hanging over us."
Threat of closure
Maesbury was one of nine schools named on an original closure list in February and it was finally approved for closure by Shropshire Council's cabinet in July.
The primary had also been earmarked for closure in 2008, along with 21 other schools, although the plans were eventually dropped.
Falling pupil numbers across the county mean the council is now receiving £10m less funding a year from the government than it was in 2005.
There are currently 27 pupils on roll at Maesbury and Ms Finney said some parents had chosen to remove their children because of the threat of closure.
"In September I didn't know how many children were going to walk through the door," she said.
Ms Finney said the experience had been "emotionally and physically" exhausting.
She said the school would now be working to help parents secure a place at their school of choice.