Stoke Heath: Playground opens on estate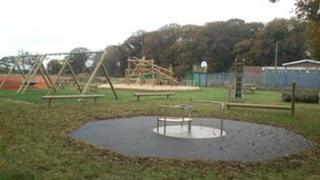 A playground has been opened in Shropshire after years of fundraising which was started by four mothers.
Dutton Close Residents Association (DCRA) was set up in 2009 with the aim of improving facilities for children in Stoke Heath, near Market Drayton.
Members raised cash and applied for money from sources including the Big Lottery Fund to collect more than £50,000
The park, which is on a former bowling green, opened at 12:00 GMT.
Samantha Waters, the group's treasurer, said a local landowner had given them the plot and they got together a group of people to tidy it up and level off the ground.
She said they then organised a series of fundraising events and started applying for funding.
"It has been hard work. It's been a lot of form filling, a lot of meetings and a lot of begging and pleading but we've got there and we're ecstatic," she said.
The park contains items for children of all ages and those with disabilities as well as sports equipment for football and basketball.