West Midlands Ambulance Service award for Bucknell man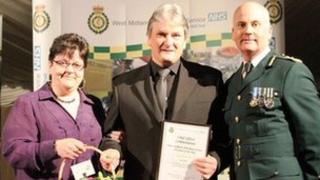 A Shropshire man who saved his sister's life has won a West Midlands Ambulance Service (WMAS) award.
Ian Owen, 50, from Bucknell, used a defibrillator on Mandy Edwards, 47, when she collapsed at home in April.
He was trained in using the equipment and had been given a defibrillator to look after as part of a community life saving skills scheme.
He said: "It was a funny situation to be in - this was the first time I had to put my training into action."
"I gave CPR and administered two shocks using the defibrillator then put her into the recovery position," Mr Owen added.
"If the Clun Valley Automatic External Defibrillator (AED) scheme hadn't started, Mandy wouldn't be here."
Under the scheme, nine defibrillators have been put in remote villages and communities in the Clun Valley area of Shropshire, and 80 volunteers have been trained to use them.
'It was luck'
Ms Edwards said: "I don't remember anything [but] later found out that on the day I had done some housework and was on the phone to my cousin when I said I felt faint."
Her cousin called Mr Owen who went round to his sister's house before Gaye Edwards, a community first responder from Leintwardine in Herefordshire, arrived to help.
Ms Edwards was flown to Royal Shrewsbury Hospital and spent four days in intensive care at Hereford County Hospital before being transferred to the Queen Elizabeth Hospital Birmingham.
Mr Owen said: "It was luck that there had been a training session the day before, it was luck that I had been given the defib to look after, it was luck that Mandy's cousin was on the phone to her when she collapsed.
"At the end of the day I did what I was trained to do."
Mr Owen and Gaye Edwards both won the WMAS Volunteers of the Year awards at a ceremony on Friday.