Council documents found in Wrekin Retail Park bin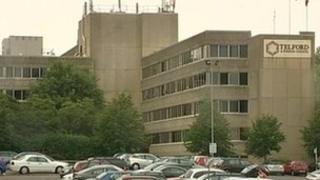 Sensitive documents belonging to Telford and Wrekin Council have been found in a public bin, less than a week after it was criticised in a report.
The papers, including job applications and a list of children at a Newport primary school, were handed in to the Shropshire Star newspaper.
A report published last week revealed there were 30 data protection breaches at the authority in the last year.
The council said it took the issue "extremely seriously".
It said an investigation had quickly identified the person responsible, a former worker who had dumped the documents after clearing her car.
Jonathan Eatough, a senior lawyer at the council, said the person responsible had thought the papers were blank forms and was "mortified" to discover what had happened.
The documents, dating from January to June, where found in a rubbish bin on Wrekin Retail Park by a member of the public, who then handed them over to the local newspaper.
'School meals'
Shropshire Star journalist Peter Kitchen said "carrier bags full" of papers had been recovered, which dealt with a whole range of subjects from invoices for cleaning equipment to sensitive schools information.
Mr Kitchen said the documents included "a full list of children at Moorfield Primary School in Newport, whether they had school meals or not and whether or not they paid for them as well".
He added that five job applications for a cleaning supervisor post were also among the items found, featuring applicants' "contact details, their qualifications, where they went to school, their references and their full job history".
Mr Eatough, who is responsible for the audit team, said the council was contacting everyone named in the documents.
He said the council would make a decision on whether to report the incident to the Information Commissioner "within the next few days".
"I don't think this council or any council can say data is 100% secure because there are so many ways in which information can go missing.
"All we can do is have procedures in place, train staff and have a culture where people are protective of information."
"We can and we must do better," he added.