Man guilty of punching puppy in Shropshire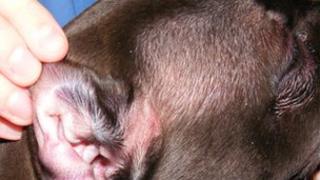 A man has been found guilty of punching a puppy belonging to his girlfriend.
Telford magistrates heard Matthew Blagborough, 22, had repeatedly hit the 12-week-old Staffordshire bull terrier in January.
Blagborough, from Cardiff, was convicted of causing suffering to the dog at his girlfriend's home in Oakengates, Shropshire.
The 22-year-old is due to be sentenced on 20 December and was told that he could face imprisonment.
Blagborough, of Mynachdy Road, was also found guilty of failing under his "duty as person responsible for the animal to ensure welfare".
A group of friends also gave evidence against Blagborough. They told the court they had witnessed the attack on 30 January.