Donkey Rescue UK wants Mary and Joseph figures returned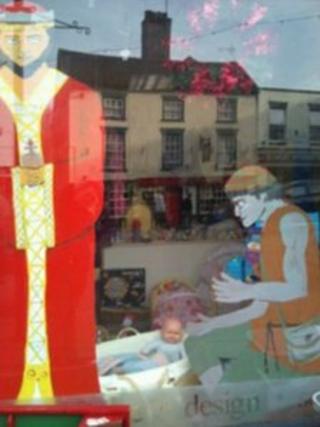 A donkey charity has appealed for the return of its life-sized Mary and Joseph nativity figures after they were sold by mistake.
The wooden figures were carved and donated by one of the charity's supporters as part of a nativity set.
They had been used as a window display in Donkey Rescue UK's shop in Shropshire when a volunteer mistakenly sold them for £5 on Wednesday.
"It looks as though baby Jesus has been abandoned," said the charity.
It has appealed for their swift return.
Amanda Ball, founder of the Bridgnorth-based charity, said: "I couldn't believe it when I found out they had been sold.
'Kidnapped by Herod'
"The volunteer didn't know they weren't for sale. She has only been with us for a few weeks and no doubt feels terrible about it.
"We just hope someone reads this and realises we made a mistake."
The customer who bought Mary and Joseph was described by the charity as a man in his mid-30s, who drove a black four-wheel drive vehicle.
Ms Ball said: "People have been joking that perhaps Herod kidnapped them.
"I can't see people would want them for their living room, they are probably too big so they were probably bought for another display.
"They were made last year and had only been out a day."
She added: "Donkeys play an important role in the birth of Jesus at Christmas time, that's why it was so important to us to recreate the scene in the shop window. Unfortunately baby Jesus appears now to have been abandoned."