Park arena protected to mark Queen's Diamond Jubilee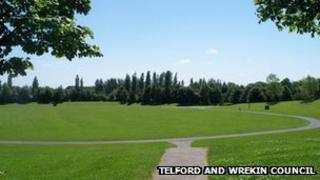 An area of parkland in Shropshire has been designated for future protection to mark the Queen's Diamond Jubilee and the London 2012 Games.
The arena in Telford Town Park has been designated a Queen Elizabeth II Diamond Jubilee "Field in Trust".
It is part of a project run by a charity that campaigns to safeguard outdoor spaces for recreational use.
Telford and Wrekin Council has signed a deed with the charity, Fields in Trust, which will protect the park arena.
The council said the deed specified that no more than nine commercial events could take place in any financial year and that all monies received from hiring the arena would be reinvested into it.
'Cherished green space'
Councillor Kuldip Sahota, council leader, said it enabled the council to protect the Town Park Arena for future generations.
"Together with our partners, the council is investing more than £3m to improve the conservation and preservation of the cherished green space of Telford Town Park," he added.
Fields in Trust is hoping to protect 2,012 public spaces to mark the 60th anniversary of the Queen's accession to the throne and the London Olympic and Paralympic Games next year.
Alison Moore-Gwynn, chief executive of the charity, said that saving outdoor space was crucial for the health of communities.
"I am delighted that Telford and Wrekin Council are the first landowner in the West Midlands to have a site protected for future generations to enjoy.
"By protecting this area under the Queen Elizabeth II Fields Challenge, the council has shown how much they value their community and its future," she said.