Walford and North Shropshire College unveils engineering centre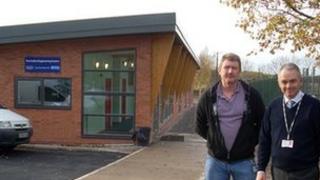 A £500,000 new engineering centre has opened at a Shropshire college.
The new facility was officially opened at Walford and North Shropshire College by Rear Adm Roger Lane-Nott.
The former submarine commander and Formula 1 race director is also chief executive of the Agricultural Engineers Association.
The college said the new centre had been specifically set up to meet the needs of local industry.
It features computer-controlled equipment, including robotics, laser cutting systems and technology used in the renewable energy industry.
Lecturer Peter Creagh said: "A lot of them are industry standard, so they'll be used in engineering companies around here.
"I've been out to quite a lot of local companies... and they give you input of what they need.
"A lot of people leave school and they can't do a lot. We're trying to give them some skills where they could go on to an employer."
College principal Andrew Tyley said local companies would also benefit and that the new facility confirmed Walford's "commitment to the future for engineering in Shropshire".