Unsung hero award for man dedicated to community sport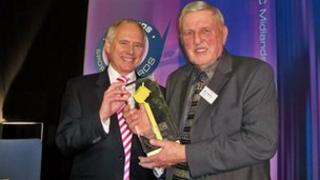 A Shropshire man is the latest Midlands winner of a BBC award that recognises people who dedicate their time to sport in their community.
Bill Longmore, 73, has worked to develop sporting facilities in Hanwood during 12 years in the village.
His efforts helping the women's football team and the local bowls club have earned him the title BBC Midlands Sports Unsung Hero 2011.
Mr Longmore said he was "overwhelmed" with the prize.
He said: "I think it's going to spur us on and I hope we can really get things moving even quicker to get more people playing sport and more people involved."