Shrewsbury shops fights for Christmas sales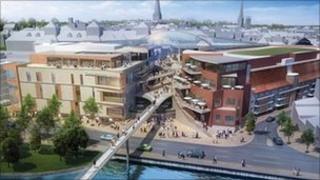 Shops in the centre of Shrewsbury could face a make-or-break Christmas, according to some businesses.
Like other high streets across the country, Shrewsbury faces a "very challenging" climate, Richard Sheehan managing director of Shropshire Chamber of Commerce said.
He added success or failure was almost impossible to measure until the end of the Christmas period.
In many ways the town centre is the envy of others around the country.
Very few units are standing empty and there is even a waiting list for stalls at the market hall.
There are more than 700 shops within the loop of the River Severn, most owned by small, independent retailers.
Many businesses across the town have said the number of shoppers has fallen in the past year.
According to retailers and business leaders one of the biggest problems is parking charges.
While retail parks attract customers with free parking, Shrewsbury town centre has seen parking charges rise in the last 12 months during daytime hours.
'General decline'
Mr Sheehan suggested councils applying a supplementary rate on out-of-town developments to help market town centre shopping.
Paul Howell, who owns Green Ginger cards and gifts shop, said there had been a "general decline" in passing trade.
"One thing that's affecting us is the cost of getting here. People always complain about parking, but clearly it is changing their behaviour," he said.
At the same time the economic climate has meant consumers have become more reluctant to part with their cash.
It is a situation mirrored in towns across the country and on Tuesday retail expert Mary Portas released a report on the state of the nation's high streets.
She called for town centres to be managed more like businesses and identified the importance of "affordable parking".
Councillor Simon Jones, cabinet member for transport, said: "I appreciate parking charges are never going to be popular.
"But the parking strategy adopted earlier this year was aimed as making charges fair across the county.
"We absolutely understand that short shopping trips are an important part of the economy for market towns, which is why we have kept the first hour of parking free wherever we can."
'Earned less'
Council car parks are also currently free after 16:00 GMT on Wednesdays, for late night shopping in the town in the run up to Christmas.
Even when people are in town, they are not spending as much, according to Mr Howell.
He said comparing two Saturdays in 2010 and 2011, he found the shop served more customers on the day this year, but crucially earned less money.
Mr Sheehan said businesses across the county were fighting hard to win trade, including heavy discounting, even before traditional January sales.
Even for those businesses bucking the national trend, trading conditions are still very difficult.
Michelle Jamie owns the Wysteria Lane boutiques in Dogpole and Grope Lane, and said shopper numbers had fallen noticeably in the past 12 months.
Despite this it has seen growth and has even opened a branch in Birmingham, after being approached by the city council.
A more business-minded approach to town centre management is also an issue raised in Mary Portas's report.
Along with a rise in out-of-town shopping, high street traders have also lost out to online retailers.
Across the country, online retailing has doubled since 2000 and is expected to account for 12% of all sales by 2014.
£150m redevelopment
Wysteria Lane has been online for two years and has seen internet sales grow significantly over that period.
The business, employing 16 staff in all, has particularly seen a rise in sales of its coat hangers this year since they featured in ITV programme The only Way is Essex.
About 60 new shops are due to open in Shrewsbury town centre in time for Christmas 2015.
They will be part of a £150m redevelopment of the town's three main shopping centres, revealed in July.
Despite the investment, some business leaders have called for independent retailers to be protected to ensure a diversity of shops.