Father of Dale McNamee appeals to white van driver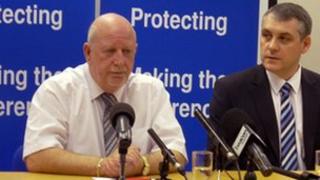 The father of a Shrewsbury man who was killed in a suspected hit-and-run crash has appealed for the driver of a white van to come forward.
Father-of-three Dale McNamee, 36, from Harmer Hill, was found dead on the A458 near Cound at about 04:20 GMT on 26 November.
He had suffered serious head injuries and was pronounced dead at the scene.
His father Clive McNamee asked for the driver of a white van heading towards Bridgnorth to contact the police.
He described his son as fun-loving, with a wide circle of friends.
"At least one person out there knows more about this than anyone else," he said.
Det Insp Steve Tonks said the van, which included a passenger wearing a high-visibility jacket, had been seen travelling towards Mr McNamee, moments before the incident.
Emergency services
Mr McNamee, who was a security guard, had been drinking with work colleagues at a pub in Shrewsbury, before taking a taxi to a home in Cross Houses, three miles away.
He then left the house at about 02:40 GMT and had walked one and a half miles along the A458 in the direction of Bridgnorth.
Police said a woman driving past spotted him lying in the road at 04:20 GMT and contacted the emergency services.
Moments later she flashed her headlights at a white "box-type" van to warn the driver of Mr McNamee's presence.
Police said the road was unlit and Mr McNamee had been wearing dark clothing.
They urged the occupants of the van to contact them by dialling 101.
Mr McNamee's funeral is due to take place on 21 December.