Hole under Bridgnorth's Bank Steps filled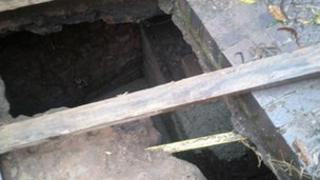 Work has started to fill a hole that opened up in a Shropshire street.
The hole, almost six feet deep (1.8m), at Bank Steps in Bridgnorth was caused by a roof collapse in a previously unknown underground vault.
John Williams, from Shropshire Council, said the vault might have been part of a larger cellar and cave network that runs under the town.
He said concrete would be added in stages and work was expected to be completed by the end of the week.
Mr Williams said the council had first known there was something wrong when deterioration had been spotted at the steps, which are a popular route to the riverside.
He added it was unclear what the vault had been used for, but it might also have been designed to support the steps, which overhang a sandstone cliff.
Dozens of vaults and man-made caves run under the town.
Some were inhabited, while historians believe others were used for access or storage.
Bridgnorth's low town, which developed around the River Severn, was once a thriving commercial port.
In 1989, extensive research was carried out on the caves by members of the archaeology unit at Birmingham University.