Ludlow Assembly Rooms receives council grant assurance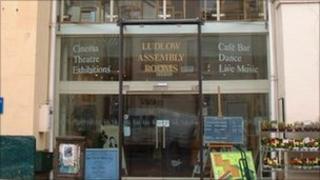 Shropshire Council has confirmed its support for a theatre in the south of the county that had been at risk of closure due to government budget cuts.
Ludlow Assembly Rooms boasts a gallery, cafe and 300-seat auditorium used for live performances and film screenings.
It was informed last spring that from April 2012 it would lose its £60,000 annual Arts Council grant.
Shropshire Council has said it will support the theatre until 2015 to give it time to replace its lost arts grant.
The theatre receives about £170,000 in annual grants and has an annual turnover of about £650,000.
'Pleased and relieved'
It receives £90,000 in grants each year from the Conservative-run council but because of the council's own budget cuts that funding will also be reduced, to about £70,000 over the next three years.
A theatre spokesman said managers were working closely with the council to devise a "robust" business plan to make up the £70,000 shortfall.
At one stage they believed the theatre, which has been operating for 18 years, would lose the council grant entirely, at which point they expected the venue would have had to close.
Mike Penn, chairman of the board of the Assembly Rooms, said: "We are both pleased and relieved that Shropshire Council has confirmed its grant funding until 2015.
Live streaming
"This gives us the time we need to develop new income streams to replace the lost Arts Council funding, and to give the Assembly Rooms a viable future."
The theatre's immediate future was secured in June by two donations of £50,000 and £30,000 but at the time its director Paula Redway said she was concerned about the theatre's long-term viability.
A spokesman said the theatre planned to make savings by reducing its opening hours and box-office hours. It has also closed its canteen.
It also needs to increase revenue and part of the donation money was used to buy a digital projector so it can show a wider range of films with which it aims to attract new audiences, for example for live streamed events such as the Olympics or productions by the English National Opera, the spokesman said.