Cost of stolen drain covers revealed by Shropshire Council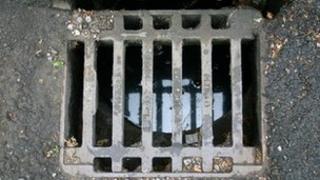 Replacing stolen metal drain covers has cost Shropshire Council up to £50,000 over the past year, it has estimated.
The authority said it thought between 200 and 250 covers had been taken, with an estimated average replacement cost of about £200 for each cover.
The council said the number of yearly thefts was up from 100-150.
It said it hoped that new hinged covers bedded into the concrete would make them more difficult targets and deter thieves.
Councillor Simon Jones, cabinet member with responsibility for transport, said: "Over the last year or so when we've actually had to replace a manhole cover... we're actually replacing them with hinged covers.
"The frames are bedded into the concrete and the covers are actually hinged on to [them], so they can't actually be taken easily."
He said the design required a "more concerted effort" from thieves.
"If you're having to break a hinge, [you're] more likely to be seen doing it, so hopefully the thieves will then move on to something else.
"They're looking for easy pickings rather than a difficult situation like that."
Mr Jones appealed for people to contact the authority if they see an open drain or somebody taking a cover.