Shropshire village schools become federated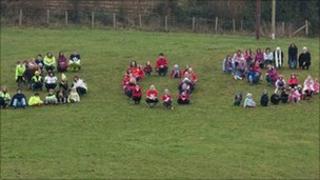 Three Shropshire primary schools have avoided closure by becoming federated.
Shropshire Council's cabinet agreed not to close Lydbury North, Onny and Stiperstones primary schools, to allow them to progress federation plans.
Federation means two or more schools come together under one governing body and share staff and resources.
Stiperstones Primary School has joined up with Chirbury Primary School and Onny and Lydbury North primary schools have also partnered.
The council had previously proposed to close the schools following consultation which looked at the future of education in the county.
Staff, parents and pupils at the schools protested and asked the council to explore other options.
Five primary schools and one secondary school are set to close as part of the plans.
The council said the closures and federations will save money, while improving educational standards.
'Much stronger model'
At a meeting on 11 January the cabinet will be asked to note that as from 1 January the four schools achieved federation status.
The council's cabinet is also recommended to agree next week not to proceed to close Stiperstones, Lydbury North and Onny primary schools within the set of proposals that went to cabinet in 2011.
Councillor Cecilia Motley, cabinet member responsible for schools, said: "From the beginning, we have urged people to come forward with viable, long term alternatives to the proposals, which still ensure we can provide excellent education for all our children.
"Where this has happened we have listened as has been shown in giving Lydbury North, Onny and Stiperstones the opportunity to proceed with federation arrangements.
"The report to cabinet explains that as stand-alone institutions Lydbury North, Onny and Stiperstones had become unsustainable in the current network of schools - and while we will need to continue to monitor progress, these federations offer a much stronger model to secure the future of the schools."