Shrewsbury on flood alert as river levels continue to rise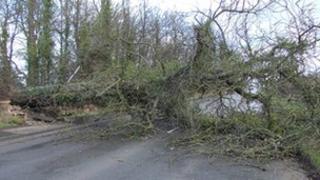 River levels are expected to continue to rise in Shrewsbury, the Environment Agency (EA) has said.
The second stage of flood barriers was put up in Frankwell on Wednesday after a flood warning was issued for the town centre, including the Quarry.
Frankwell car park is closed as a precaution with peak levels now expected on Friday afternoon.
A flood alert remains in place for the rivers Teme and Severn throughout Shropshire.
Sydney Avenue and Gravel Hill Lane in Shrewsbury were also closed due to flooding.
The B5061 Holyhead Road was closed outside Wellington, after high winds brought down a tree.
The EA also warned that some areas of north Shropshire could see levels rise once again over the next few days, after 20-30mm of rain fell overnight in Wales.
Anthony Perry, of the EA, said: "Fields are very saturated at the moment and that means river levels can rise quite quickly."
Levels are expected to peak at Shrewsbury's Welsh Bridge at about 3.5m and a flood warning has also been issued for the Berwick Road showground.
Shropshire Council said Theatre Severn would remain open as normal in Frankwell and that customers were advised to use park and ride or alternative town centre car parks.