Radio presenter Adam Green goes teetotal for TV project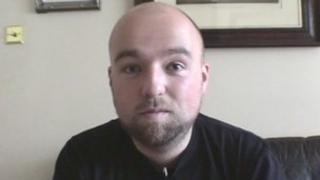 BBC Radio Shropshire presenter Adam Green liked to drink with his friends and wife.
He described himself as an "average drinker". Three pints with friends down the pub here, a bottle of wine with his wife there. All with little thought to the impact the alcohol was having on his body.
That was until he volunteered to become teetotal for the month of December for the BBC's Inside Out programme.
He was told by a GP that what seemed to be an innocent enough amount of drink actually had the potential to cause a great deal of harm.
Needless to say Green said the process had had a big impact on him - he started out by thinking it would be "nice to lose a bit of weight".
Before attempting to complete a dry December, the 31-year-old kept a diary of his drinking.
He showed it to Dr Martyn Hull who works for the drug and alcohol charity Swanswell in the West Midlands.
In one week he managed three separate days where he had consumed 20 units.
'High risk category'
The presenter said even though the diary was not typical of what he would normally drink, he was still embarrassed by the doctor's verdict.
"It was quite hard-hitting I suppose what he told me, it was cause for a bit of concern, certainly motivational for the rest of the month.
"Based on the diary, I was at a level of drinking that would be considered a higher risk category, into a harmful category," he said.
Out and about at social occasions during the festive period, Green said he would explain to people what he was doing and why.
He said he found people around him tended not to drink as much and as far as he was concerned, by the end of week three not drinking had "become the norm".
'No enjoyment'
When the presenter went back to the doctor towards the end of the month he discovered that his blood pressure had improved and he had lost 5lb (2.3kg) in weight.
But with five hours to go until midnight on New Year's Eve Green succumbed, although he admitted there was "no enjoyment factor" in his first tipple for nearly 31 days.
"Having been told by an actual expert in alcohol and substance abuse the bare facts of where we're at as a nation, it definitely gets you thinking," he said.
He added that he had begun to "understand his own relationship" with alcohol.
That said, Green still likes to drink with his friends and wife. But he is likely to think more about what he drinks in the future.