Charity collects unwanted cardboard in Shrewsbury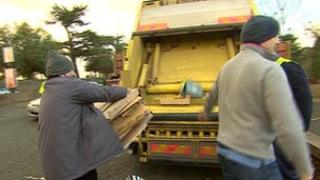 A charity has stepped in to help people get rid of unwanted cardboard after Shropshire Council stopped collecting it as part of green wheelie bin waste.
Shropshire Transition Group set up three temporary collection points in Shrewsbury at the weekend.
The authority has its own collection points, but the charity said there were not enough and people without cars "cannot recycle cardboard" in the town.
The council said it was exploring other ways to make cardboard collections.
People had been able to put cardboard in their green recycling bin, but it was discovered that inks and coatings on cardboard could have a detrimental effect on any compost produced.
Shropshire Transition Group said any money raised goes to local charities.