Waste company Veolia wins Shrewsbury incinerator appeal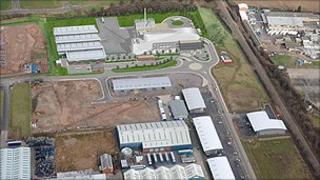 The company which handles Shropshire Council's rubbish has won the right to build a waste incinerator near Shrewsbury.
Veolia said work on the £60m energy-from-waste facility at Battlefield could start in early summer.
In 2010 the council's planning committee had unanimously rejected an application to build the incinerator.
But Veolia appealed and, after a public inquiry, the planning inspectorate sided with the waste company.
Shropshire Council wanted the plans rejected on the grounds that it was the wrong development, in the wrong place, at the wrong time.
Veolia said the scheme would burn up to 90,000 tonnes of waste and generate enough electricity to power 10,000 homes.
'Shaking with anger'
"It's been a long process to get this far," Veolia's regional director Donald MacPhail said.
"It's worth remembering for everyone that this is Shropshire's waste we're handling, this is not Veolia's waste."
Shrewsbury Conservative MP Daniel Kawcynski said he was "almost shaking with anger" and planned to raise the issue in the House of Commons.
Dave Green, from Shrewsbury Friends of the Earth, said he was disappointed and surprised by the decision.