Shrewsbury ferry launched during Porthill bridge repairs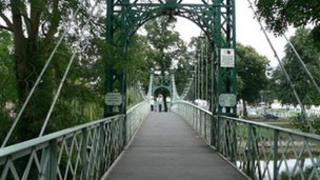 A ferry service will be launched in Shrewsbury in March when a popular footbridge closes for repairs.
Porthill bridge, which spans the Severn, is due to close for almost five months on 12 March for a £450,000 refurbishment.
The ferry, which is expected to hold 12 people and cost about 50p a trip, will connect the pub with the Quarry park.
It will be subsidised by Shropshire Council and The Boathouse Inn.
Tim Bennett, co-owner of The Boathouse Inn, said he had been concerned by a potential drop in trade during the spring and summer months.
He said the ferry would operate from about 08:00 to 19:00 to make it accessible for people travelling to work or college.
The scheme still requires approval from the Environment Agency.
Shropshire Councillor Simon Jones said: "This is essential maintenance work which needs to be carried out due to the condition of the bridge."
As well as repairs to bridge's structure, its wooden deck will also be replaced.
It last closed in 2009 for repairs to overhead cables.
'Less disruptive'
The work is due to be completed in time for the Shrewsbury Flower Show, 10-11 August.
Mr Jones added: "While it is appreciated it may be less disruptive for the local community if the work was to take place during the winter months, unfortunately, in this instance this is not possible."
Mr Jones said the authority had been concerned about the added risk of flooding due to the temporary scaffolding "acting as a partial barrier ".
He added the painting could not be carried out in colder weather.