Bishop's Castle biomass plant plans abandoned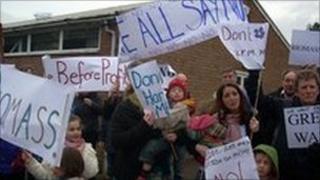 Plans for an unpopular biomass plant in south Shropshire have been scrapped.
The plant in Bishop's Castle would have generated heat and electricity from sustainable fuels such as woodchip and energy crops.
The proposals were approved by Shropshire Council in 2010, after a public inquiry the previous year.
However, the authority said the site at Bishop's Castle Business Park had been taken off the market because agreements with developers were not reached.
Following more than a year of negotiations with Bishop's Castle Biomass Power Ltd, the sale would now not go ahead, the council confirmed.
'Alternative uses'
Hundreds of campaigners have protested against the plans, which were first submitted in 2007.
"I know the community had very strong views on this proposal, which has been going on for many years now," council leader Keith Barrow said.
"Now that the sale is not going ahead, this gives us an opportunity to talk to the town council and local residents about potential alternative uses for the land, and I have already started talking to the town council about potential ways forward."
Following a public inquiry in 2009, the then Secretary of State for Communities and Local Government Hazel Blears rejected claims the plant would damage the environment and pollute the surrounding landscape.
However, planning inspector John Woolcock imposed 37 conditions on the scheme, including that only clean woodchip could be used.