Cardboard kerbside collection trial in Whittington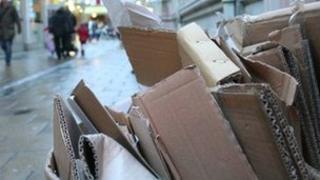 A six-month trial to find a new way to collect cardboard from the kerbside will start in Shropshire on 31 January.
A pilot scheme by Shropshire Council and its waste contractor Veolia will be held in the village of Whittington.
This follows changes to national composting standards last year, which means that cardboard will not be accepted in the garden waste bin.
Since then, the council has been looking at ways to collect cardboard for recycling from the kerbside.
Mark Hunter, from Veolia, said: "We have to evaluate the situation in relation to what we find out from the trials and obviously we're going to do this for a maximum period of six months."
To see if the kerbside collection could become a viable option, the council is trialing the collection of light cardboard with paper as part of the current recycling system.
Mr Hunter continued: "We are gong to do an evaluation after three months, and take it from there, so there's not a hard and fast final outcome to this, but clearly we want to try and find a way forward."
Earlier this month, the charity Shropshire Transition Group, set up temporary cardboard collection points for those who could not travel to the recycling banks.