New £40m Shrewsbury retail plans go on display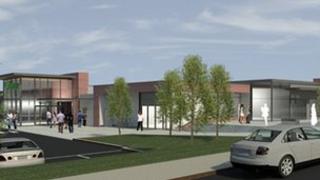 Plans have gone on display for a new £40m retail development on the outskirts of Shrewsbury.
Proposals for the Percy Thrower Garden Centre site, on Otley Road, include a Waitrose supermarket, which the company said would create 200 jobs.
The plans would also see the garden centre rebuilt at the site and enlarged to 60,000 sq ft (5,500 sq m).
Developers have said they expected to submit a planning application by the end of March.
The plans also include up to seven smaller retail or commercial units.
The display in the garden centre is due to close at 16:00 GMT on Saturday.