Dawley Town Hall: School and business help in clean up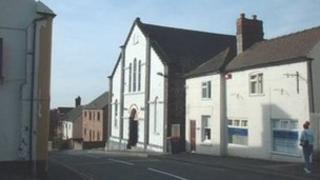 Residents, businesses and a school are teaming up to clear the area around a Shropshire town hall which was closed last year.
There are plans to turn Dawley Town Hall, built in 1873, into a community facility for local groups.
Telford and Wrekin Council said "lots of junk" needed to be moved before it could put up hoardings around the hall.
Volunteers from technology company Capgemini and Phoenix Secondary School will be working on Friday.
Neil Stonehouse, head teacher of the school, said: "Working in partnership with others in this way will help us all improve facilities and opportunities for the Dawley community."
The council said it wanted to form a Friends of Dawley Town Hall group to look after the building and its grounds.
A regeneration partnership, including local schools and businesses, has already been formed to try to get money to restore the hall, including lottery funding.
Telford College of Arts and Technology and Great Dawley Parish Council are also involved in the project.
Councillor Shaun Davies said: "Talking to residents in Dawley it is absolutely clear that the town hall has played host to many important and cherished family occasions throughout the years."
The building was originally a temperance hall set up to encourage the area's mining community to come together, while promoting abstinence from alcohol.