Shropshire spinal injuries unit treats more riders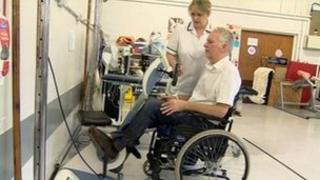 A consultant at a spinal injuries unit in Shropshire has said horse riding has overtaken rugby as the chief cause of the sports related injuries he treats.
Ahmeed Osman, from the Midlands Centre for Spinal Injuries at Oswestry, believes riders need to be made aware of the risks.
"I think the number of rugby injuries reduced because they did a campaign which was successful," he said.
He wants the same kind of safety campaign to be aimed at horse riders.
Ian Bolshaw has been helped to walk again at the centre after being thrown from a new horse he was trying out.
His spinal cord was crushed and for five weeks he was paralysed.
"At the time I had a riding hat on and as I landed on my face the peak of my hat forced my head back.
"Straight away I heard the crack and I knew it was serious."
The centre also treated Olympic showjumper Tim Stockdale after he broke his neck when he was thrown from a new horse.
British Showjumping is supporting the hospital, naming it as a chosen charity for 2012.