Ifton Heath Primary School in Shropshire loses academy bid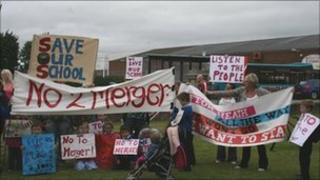 A Shropshire primary school has lost a bid to stay open and become an academy.
Ifton Heath Primary School in St Martins had applied for academy status but the Department for Education has rejected the application.
It was rejected on the grounds both primary and secondary education in the area needed to be maintained.
Shropshire Council decided in September Ifton Heath Primary School should merge with Rhyn Park Secondary, making an all-through school.
Head teacher of Ifton Heath, Nicola Bradley, said: "It's taken six months, but they [the Department for Education] wrote a very short letter saying our application to become an academy had been refused on the grounds of that they wish to maintain education provision for both primary and secondary school pupils in this area.
Change of schools
"There is no reason to move from our perspective. We have plenty of children, we have a healthy budget, there are no reasons to close us.
"We're within three years of our centenary on this site and we feel very much that we're being sacrificed."
Shropshire councillor Cecilia Motley, cabinet member for schools, added: "We will support the schools, parents, pupils and the wider community in ensuring there is as little disruption as possible in making the transition to the extended school."
However, some of the parents are already taking their children out of Ifton Heath Primary School.
Ms Bradley continued: "We've lost seven children since we had the letter last week, that's in addition to several who had taken their children away over the course of the last year specifically because they wanted to schools to remain separate."
It has also been announced The Priory School in Shrewsbury has had approval to become an academy.
There are five other secondary schools in Shropshire and Telford and Wrekin with academy status, which gives them greater control of their finances.
Ifton Heath Primary School will close in August and the extended school will open in September.
It is estimated that the new building will be ready by January 2014 but until then the school will continue to run on the two sites.