Marches Meres and Mosses named Nature Improvement Area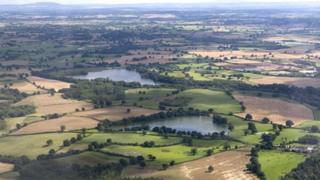 A wetlands area which crosses the Shropshire and Cheshire border has been awarded more than £500,000.
The Marches Meres and Mosses nature reserve is one of 12 across the country to be named Nature Improvement Areas as part of a £7.5m government scheme.
Shropshire Wildlife Trust, which put together the bid, said the money would be used to maintain the wetlands and make them more accessible.
It said the money would also be used to help reduce pollution.
John Hughes, development manager at Shropshire Wildlife Trust, said the wetlands were particularly sensitive to the effects of slurry and other sprays running off farmers' fields.
The area, which covers 40,153 hectares (99,220 acres) from Ellesmere in north Shropshire almost as far as Crewe in south Cheshire, includes a large number of landowners.
It also includes a number of Sites of Special Scientific Interest (SSSIs).
Lottery grant
"The meres and mosses landscape has the greatest concentration of farm ponds in the whole of Europe. There are thousands of them," Mr Hughes said.
He added that the wildlife trust was working to help link up the different "islands" of wildlife and allow them to spread across the surrounding countryside.
The landscape was formed about 15,000 years ago at the end of the last ice age when glaciers retreated, leaving shallow meres and peatland mosses.
The peat bogs are currently home to rare dragonflies, carnivorous plants and Britain's biggest spider, the raft spider.
Shropshire Wildlife Trust said it was also hoping to secure a lottery grant of £1m for the nature reserve next month.