Gliding competition for 2012 Wenlock Olympian Games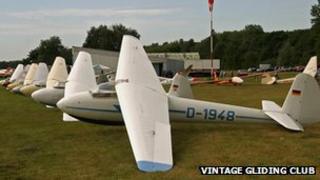 A gliding competition is to be included at the Wenlock Olympian Games in Shropshire.
Organisers said gliding would be a demonstration sport at this year's event before becoming a "permanent part" of the games.
First held in Much Wenlock in 1850, the games were considered to have played a role in inspiring the modern Olympic movement.
The Wenlock games in July are made up of different sports and events.
The Wenlock Olympian Society, Vintage Glider Club and Midland Gliding Club have worked together to bring gliding to the annual event.
Organisers said they had received entries from all over the UK with 13 entrants coming from Europe.
Bruce Stephenson, secretary of the Vintage Glider Club, said: "We're delighted that it's going to be a demonstration event for 2012, but we're actually even more delighted that it's going to become a permanent part of the Wenlock games from 2013 onwards as a full sport."
The Wenlock Olympian Games take place from 8 to 21 July with the gliding competition scheduled to take place at the Midland Gliding Club's airfield on the Long Mynd.