Footbridge repair work starting in Shrewsbury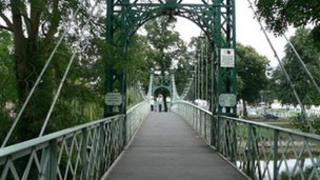 Work has started to repair and refurbish a Shrewsbury footbridge in a scheme estimated to cost about £550,000.
Porthill Footbridge, which crosses the River Severn, will be closed from 12 March until late July.
The work includes repainting the entire bridge and replacing its timber deck.
A ferry service, costing 50p a journey, will connect The Boathouse Inn with the Quarry park in a scheme subsidised by the pub and Shropshire Council.
A Shropshire Council spokesman said preparation work for the bridge closure began on Monday with huts being installed for the contractors.