Stallholder wants goldfish prizes at Ludlow May Fair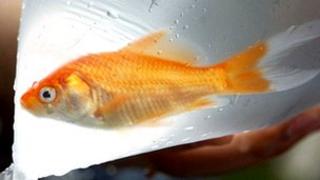 A stallholder at Ludlow May Fair is appealing to town councillors in Shropshire to overturn their ban on goldfish being handed out as prizes.
Jimmy Stokes said that, under RSPCA guidelines, fish could be given away in plastic boxes with holes in, rather than plastic bags.
The ban was imposed by Ludlow Town Council two years ago after an anonymous complaint.
The issue is set to be discussed at a meeting next week.
"It's something children look forward to, to win goldfish on a fairground," said Mr Stokes.
Council-owned land
Ludlow councillor Viv Parry said: "The information we get from the RSPCA is that goldfish die because of a result of stress and shock."
She said that if boxes were used instead of traditional bags, people might never buy a bowl and just keep the fish in the box.
The government watered down a total ban on the giving of animals as prizes as part of the 2006 Animal Welfare Act.
Instead, a compromise was agreed, whereby children who were accompanied by someone aged over 16, were allowed to take away the fish.
But many councils around the UK do prevent the giving away of live goldfish as prizes on council-owned land.
Ludlow May Fair takes place annually on the first May Day Bank Holiday weekend. A fair has been held in Ludlow since medieval times.