King Charles II 'wanted' poster fetches £33,000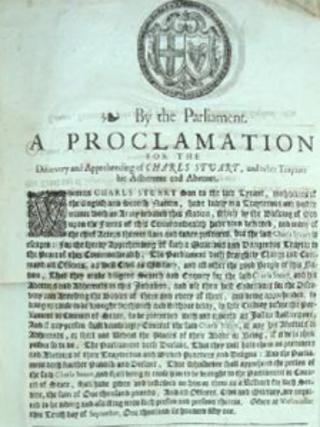 A rare "wanted" poster for Charles II has been sold for just over £33,000 at an auction in Shropshire.
The poster offers a reward of £1,000 for the capture of the king, who had escaped after the battle of Worcester in 1651.
Auctioneer Richard Westwood-Brookes said the sale price was "astonishing". It had a guide price of £700 to £1,000.
The poster was bought by someone from the Boscobel area of Shropshire, where Charles II had hidden in an oak tree.
Mr Westwood-Brookes said: "I'm pleased that the British public are interested in our heritage to this extent."
Issued by Oliver Cromwell's parliament, the poster calls for "the discovery and apprehending of Charles Stuart and other traitors, his adherents and abettors".
Following the execution of Charles I in 1649, his son raised an army to try to regain the throne.
After defeat by parliamentary forces at the Battle of Worcester, Charles II fled to Shropshire, where he hid in an oak tree.
The monarchy was eventually restored with Charles II in 1661.