Ludford Bridge to close for damage prevention work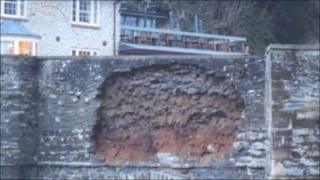 An ancient bridge in Shropshire is to close for "essential work" to prevent damage by large vehicles.
Shropshire Council said Ludford Bridge, in Ludlow, would be closed for six days from Sunday 25 March.
Councillor Martin Taylor-Smith said: "Ludford Bridge is often damaged by large vehicles, which sometimes results in road closure."
The council said the improvements would "greatly reduce" the number of instances in the future.
While the bridge is closed, traffic will be diverted through Ludlow town centre.
Councillor Simon Jones said: "While this work is expected to cause some disruption, I hope people will understand that this is essential if the bridge is to remain in a good condition in the future."
The work involves realigning the kerbs on the bridge, the council said.
The bridge was closed in January last year when masonry fell from it into the River Teme.
The existing bridge was built in the 1400s to replace an earlier bridge built in about 1150, the council said.