Porthill footbridge in Shrewsbury closes for repairs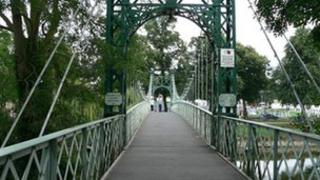 A Shrewsbury footbridge has been closed for "essential" repairs, expected to last four months.
Shropshire Council said work on Porthill Bridge was estimated to cost about £550,000.
The work includes repairs to the steel structure and the replacement of its wooden deck.
A ferry service has been launched to connect The Boathouse Inn with the Quarry park in a scheme subsidised by the pub and the local authority.
It is scheduled to operate from about 08:00 GMT to 19:00 GMT during the closure and cost 50p a trip.
The bridge is expected to reopen by the end of July.