Two honoured over man's rescue from River Severn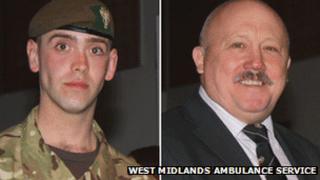 Two people have been honoured by the ambulance service for saving a man who fell into the River Severn in Shropshire.
Pte Andrew Simpson, of the Mercian Regiment, and Gary Markevics put their lives at risk in freezing waters in Bridgnorth, the service said.
Chief Officer Commendations were awarded for their actions in December.
Mr Markevics went in the water first before the soldier joined him to keep the man's head above the water.
Paramedic Chloe Jones and technician Matthew Toogood, of Donnington ambulance station, Telford, were also awarded Chief Officer Commendations for stopping a man from jumping off a bridge on to the M54 in Shropshire.
They grabbed the man before he made his leap and hauled him back to safety.