Shrewsbury Baptist Church opens after £1.1m rebuild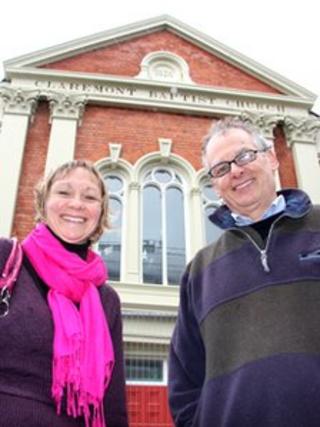 A prominent church in the centre of Shrewsbury has opened its doors again after a rebuild costing more than £1m.
Claremont Baptist Church, originally named after the street in which it was situated, was demolished in 2010.
Since then, it has received a major facelift, including glass doors, disabled access and a new floor level.
And the church, which was partly funded by the sale of land and donations, has reopened with a different name. It will now be known as Central.
Along with Crowmoor church in Monkmoor, which is on the outskirts of the town, both will become known as the Shrewsbury Baptist Church.
The church can trace its history back to 1620, when a group of Baptist Christians began meeting in Shrewsbury.
'Serve the community'
"We are placed right in the centre of this town, that's why the building is actually going to be called Central," said minister Charles Crosland.
The building retained the original front wall, but its main entrance was replaced by glass doors. There are future plans to extend this as part of an atrium.
"The doors will be open during the day so everyone will be able to see in," said Mr Crosland.
"Before, it was hidden behind great big old railings which had a bit of a forbidding look about them - kind of saying keep out."
Judy James will be running the new building. She has been worshipping at the church for 24 years.
"A lot of people don't have a faith and we recognise that," said Ms James.
"But we are still here to serve the community."