Ludlow Town Council rejects goldfish prize ban appeal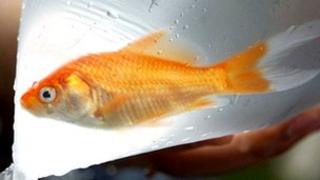 An appeal against a ban on giving away goldfish as prizes at fairs has been rejected by Shropshire councillors.
A stallholder at Ludlow May Fair had made an appeal to the town council to overturn their policy.
Jimmy Stokes said goldfish could be given away in plastic boxes with holes, to prevent oxygen starvation, rather than plastic bags.
However, at a meeting on Monday town councillors rejected Mr Stokes's proposal, by nine votes to two.
Ludlow's policy has been in place since 2010, following an anonymous complaint.
Animal Welfare Act
However, some stallholders at the town's annual fair said goldfish were a popular and traditional element of fairs.
In the 2006 Animal Welfare Act the then government watered down a total ban on giving away animals as prizes.
Instead children who were accompanied by someone aged over 16, were allowed to take away fish.
However, many councils around the country enforce bans on council-owned land.
The RSPCA is also opposed to the practice, saying those given away at many fairs, circuses and fetes often die soon afterwards.
Ludlow May Fair takes place annually on the first May Day Bank Holiday weekend.