Shropshire campaigners fight rural bank closures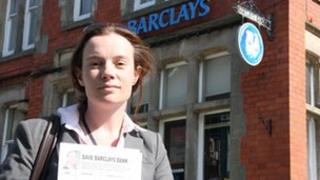 A group of campaigners in Shropshire have called on banks to halt the closure of their rural branches.
Ludlow MP Philip Dunne said local branches were important to the economy of south Shropshire market towns.
The call comes after Barclays announced its Bishop's Castle branch would close on 29 June.
Barclays, said the decision to close the Bishop's Castle branch was not taken lightly and it would look to minimise the impact on customers.
Liberal Democrat councillor for the town Charlotte Barnes, who has launched a petition against the closure, said: "Recently we've lost the Nationwide Building Society and a lot of people switched their accounts to Barclays.
"Now it looks like they're going to have to change it again."
Bishop's Castle has a population of less than 2,000, but Ms Barnes said it also served a large agricultural community.
The town currently has branches of both HSBC and Dudley Building Society, but Ms Barnes said she feared they could also pull out of the town.
She added: "You can't do everything online and over the internet. You do quite often still have to walk into a bank.
"Craven Arms is the next nearest Barclays. If people go there perhaps they will start thinking, 'as I'm here I'll do my shopping here'.
"If people live out of the town they may have no reason for coming into the town at all."
The Craven Arms branch of Barclays, eight miles away, also operates part-time hours.
Conservative MP Mr Dunne said Craven Arms had lost its HSBC branch within the last two weeks.
"Local businesses will be particularly concerned about maintaining night safe deposit facilities, as well as cash dispensing ATMs," he added.
According to the Campaign for Community Banking Services (CCBS) other Shropshire market towns, including Much Wenlock and Albrighton, have also lost branches in the past two years.
Low customer use
It said nearly 1,000 communities in the UK were without a bank, with hundreds more expected to follow in the next five years.
Adrian Davies, Barclays Retail Area Director for Shropshire, said: "There are regular changes as we work to ensure we have branches where customers need and use them.
"This often means opening or refurbishing a branch but occasionally the decision is made to close a branch for example where there is low customer use.
"We will work hard to minimise the impact on customers and will help them with the change to ensure the transition is as smooth as possible.
"One alternative to the branch is the arrangement we have in place in which personal customers are able to pay in and take out cash, free of charge at the local Post Office, the nearest of which is situated at the Boars Head Hotel."
Mr Davies added that there would be no job losses through the planned closure, with all staff expected to be relocated to other local branches.