Telford car arsons: Police dismiss racial link claims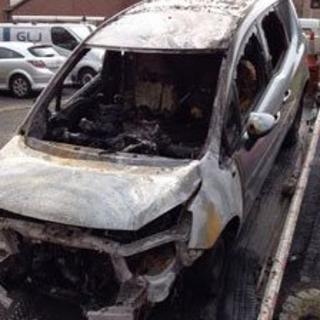 Claims that a spate of arson attacks on cars in Shropshire were racially motivated have been dismissed by police.
About 20 fires have been reported in and around the Leegomery area of Telford since 28 March.
Police, who have arrested five people in connection with the incidents, said they were aware of rumours that ethnic minorities had been targeted.
A spokeswoman said the victims came from "a mix of ethnic backgrounds".
Supt Amanda Blakeman, of West Mercia Police, said it believed the attacks were "random".
She said: "I can understand why local people would be concerned about these rumours, but there is no substance to them.
"We are more concerned that there may be copycat incidents occurring and I want anyone involved or thinking about getting involved to know that we will work tirelessly to find all those responsible and they will be put before the courts.
"I want to repeat our warning to whoever started these fires that it is only a matter of time before we trace you and once we have, you will be dealt with very robustly."