MP calls for police reward over Telford car fires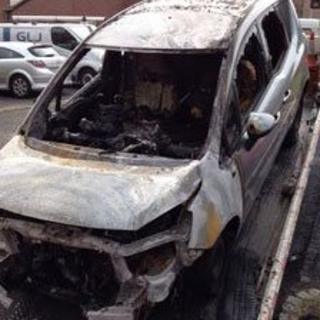 A Shropshire MP has called for police to offer a reward after a series of arson attacks on cars in Telford.
Mark Pritchard, MP for The Wrekin, said West Mercia Police should work with Crimestoppers to "incentivise" people with information to come forward.
The latest attack was on Chockleys Meadow, Leegomery, at 04:50 BST. Six cars were set on fire on Thursday.
It takes the number which have been targeted in the area to at least 16 in the past two weeks.
"Perhaps a reward will make the difference," said Mr Pritchard.
"It just appears to be individuals basically wanting to destroy cars and to terrorise the local community."
'Copycat incidents'
Five people were arrested after the first spate of attacks 10 days ago, and were released on bail.
A man in his 20s was also arrested at the weekend and released on bail, West Mercia Police said.
Police have already said they did not believe the attacks were racially motivated but that there may be a copycat element to the fires.
Supt Amanda Blakeman, the policing commander for Telford and Wrekin, said: "I can understand why local people would be concerned about these rumours, but there is no substance to them.
"We have no evidence to suggest the series of car arsons over recent weeks is racially motivated - the victims come from a mix of ethnic backgrounds, including white British, and we believe the arsons are being started randomly.
"We are more concerned that there may be copycat incidents occurring and I want anyone involved or thinking about getting involved to know that we will work tirelessly to find all those responsible and they will be put before the courts."