Grand National winner Neptune Collonges retires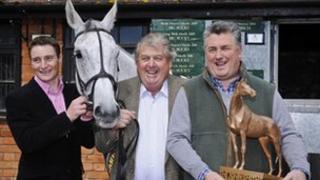 Grand National winner Neptune Collonges has officially started his retirement after being welcomed home to Shropshire.
The 11-year-old grey, trained in Somerset by Paul Nicholls, has now moved in to owner John Hales's stables near Shifnal.
Mr Hales said Neptune Collonges could now look forward to "pampering and five-course meals".
He won the National in one of the closest finishes of all time.
Horseracing's Timeform review has also rated his win as the greatest in Grand National history.
Mr Hales said: "He thoroughly deserves his retirement.
"We always said, win lose or draw, that's it.
"He's going to do a lot of visits and raising money for charity, and I hope lots of parades."
Stable groom Clare Smith, who has looked after "Nipper" since he was four years old said he would now enjoy eating as much as he wants.