Further arrest over Lower Rudge armed robbery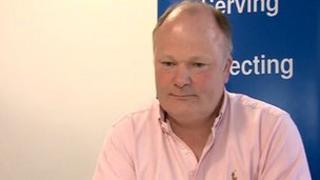 Another man has been arrested over a robbery in which a couple were tied up and beaten in their Shropshire home.
Richard Barnfather, 48, and his partner Deborah Leadbetter, 37, were attacked by three masked men at their home in Lower Rudge on 9 March.
An 18-year-old was arrested about 07:20 BST at a flat in the Warstones area of Wolverhampton on Friday. A 22-year-old man has already been charged.
The couple were held at gunpoint as jewellery and luxury cars were stolen.
'Cars abandoned'
Mr Barnfather, a West Midlands businessman, said they were dragged upstairs into a bedroom and then tied up.
Jewellery and cash worth more than £50,000 and three luxury cars were taken.
An Aston Martin, Range Rover and a Mercedes were later found abandoned in different areas in the Black Country.
A £14,000 reward is still being offered for information leading to the arrest and conviction of offenders.