Robbery of pregnant Wollerton woman 'a cowardly crime'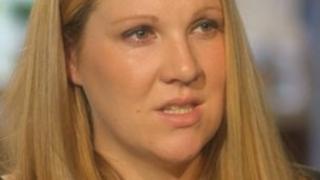 Two violent robberies carried out by three men in Shropshire have been branded as "cowardly crimes" by police.
Victoria Ratheram was eight months pregnant when she was threatened at her Wollerton home on 5 April. Her three-year-old son was also in the house.
The men, brandishing machetes and a baseball bat, also attacked a teenage boy and his mother at a nearby address.
West Mercia Police made an appeal for witnesses on BBC One's Crimewatch programme.
Head of Shropshire CID, Det Ch Insp Alan Edwards, hoped the television reconstruction would "persuade people to come forward with information".
He said: "This was a violent and terrifying experience for the victims at the two homes.
"We are still investigating the motive for the attacks but at this stage, we do not think they were random.
"I am anxious to hear from anyone who spotted three or four men, possibly wearing hats, acting suspiciously in a silver car either the day before the attacks or during the early hours of 5 April when their getaway vehicle may have been parked up on the approach to Wollerton.
"I am also appealing to members of the criminal fraternity to help as I believe they will not condone this kind of violence against women and children."
All three men are described as being white and around 5ft 10in (1.78m) tall.
Two are believed to be around 40 years old with the third man in his mid-to-late 20s.