RAF Shawbury servicemen to take football kits to Africa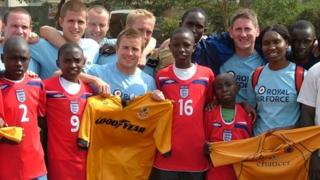 People wearing the blue and amber of Shrewsbury Town may be a common sight on a matchday at the New Meadow, but the kit is soon to be seen in the streets and towns of Nairobi.
The charity, Taking Football to Africa and Beyond, is taking more than 5,000 football kits to schools, orphanages and communities in Kenya this month, including many donated by the football club.
The charity has been run by service personnel at RAF Shawbury in Shropshire since 2006 and was the idea of Sqn Ldr Neil Hope.
He said: "It came from a drunken conversation in a bar with a friend, where we were talking about how many replica kits we had just lying around in drawers at home and I thought we could put them altogether and send them out to Africa.
"It's that universal love of football across the world and RAF servicemen who'd been training in various countries and certainly in Kenya, had said the kids there were absolutely football crazy but they had no kit.
"So the idea was to redistribute kit that was no longer wanted in this country to the needy across the world and it's worked really well."
Unwanted kit
The appeal has so far delivered 50,000 items, including nearly 20,000 shirts to 39 countries across the world, most recently to Tanzania, El Salvador and Poland.
Sqn Ldr Hope said the charity received regular donations with the vast majority coming from Sunday league and kids clubs, who have worn their strips for 2 years and no longer wanted them, or factory seconds from sportswear firms.
They also recently received £15,000 worth of unwanted kit from Shrewsbury Town.
"They're not the only club to give us donations. Carlisle United and Wolverhampton Wanderers both gave us lots of equipment a couple of years ago, as did Manchester United in the early days.
"Probably the biggest donations come from England, the FA, when they've changed kit they've given us a load of stuff on the condition it goes to the needy oversees rather than in the UK."
Gap years and holiday
Fourteen members of the RAF Shawbury football team are travelling to Kenya later this month and as well as handing over the strips, they will be playing four matches against local teams.
They will be visiting many of the slum areas and a few townships away from Nairobi.
"When you go out there and you give a kid, or even an adult, a football shirt, the look on their face is fantastic and they absolutely love it.
"This will be my fifth trip out there and when you see the effect it has when you go into the orphanages, the schools or even playing a game of football against the adults, it makes such a difference to them."
Sqn Ldr Hope, who was recently awarded the MBE for his charity work, tries to visit Kenya once a year to deliver the shirts.
"I also deal with aid agencies and charities including Kit Aid who work across the world and anybody who contacts me who's going abroad to do a gap year or even just on holiday I get them to take some kit over too.
"All I ask is they get me a photo that I can then send to the people who donated the kit."