Shropshire council maps street light switch-off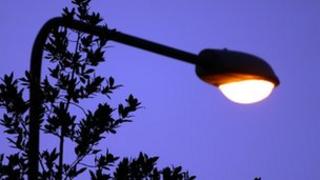 An interactive map showing where street lights are to be switched off overnight has been produced by Shropshire Council.
The council approved plans to convert 70% of its street lights to "part-night lighting" in September 2011.
The first lights to be converted will be in the areas to the south of Shrewsbury in mid-June.
The interactive map allows people to enter their postcode and see what lights near them will be changing.
The converted street lights will be lit until midnight and then switch themselves off for five and a half hours.
Councillor Simon Jones said: "We have had detailed discussions with the emergency services and parish and town council representatives about which lights are included in the scheme, and it's important to remember that every street light will still be on until midnight."
He said a lot of work had gone into the exemption criteria, so that places like dangerous road junctions were not included.
The council said switching off street lighting for part of the night would reduce its energy use by 20%.