RAF Shawbury servicemen take football kits to Africa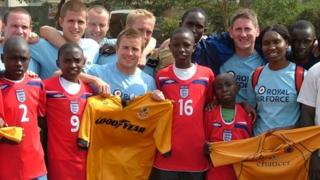 RAF servicemen from a base in Shropshire are leaving on a mission to deliver football kits to schools, orphanages and communities in Kenya.
The charity, Taking Football to Africa and Beyond, is run by service personnel at RAF Shawbury.
The majority of the 6,000 items of kit have been donated by Sunday league and children's clubs.
Sqn Ldr Neil Hope said they have had a "hard couple of weeks" packing and documenting 44 bags of kit.
During the eight day mission the charity will make deliveries to 22 locations in Kenya.
The 14-man team will also take part in four football matches.
Since 2006, the charity has delivered 50,000 items, including nearly 20,000 shirts to 39 countries across the world, most recently to Tanzania, El Salvador and Poland.
Sqn Ldr Hope was recently awarded the MBE for his charity work.