Teenager rescued after fall on the Wrekin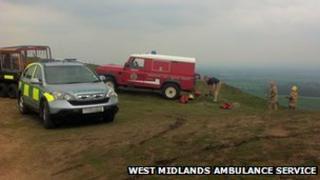 A teenager who reportedly fell 100m (328 ft) down a hill in Shropshire has been rescued and taken to hospital.
The 13-year-old boy fell on the Wrekin at 12:45 BST.
Shropshire Fire & Rescue Service pulled the teenager to the top of the hill, helped by West Midlands Ambulance Service NHS Trust.
The boy sustained a head injury and a suspected broken ankle and was taken to the Princess Royal Hospital in Telford.