Shropshire unveils its first electric car charger points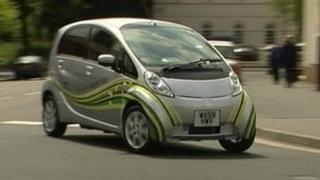 The first electric car charging points in Shropshire have been set up.
Plug-in points for electric and hybrid cars have been installed at Hawkstone Park Hotel in Shrewsbury and Oswestry's Orthopaedic Hospital.
James McKeemey, from the charger maker Pod Point, said they aimed to put them at "destinations" where people would spend time while the cars recharged.
Hundreds of car charging points are already in place around the UK.
A third charger in Shropshire is going to be installed at the car park near the new Wellington library in Larkin Way.
Mr McKeemey said: "We really look forward to having more charging points in Shropshire as we move forward."
He said more points bring confidence for electric vehicle (EV) drivers "knowing they won't get stuck".