Cosford station: No funding for disabled access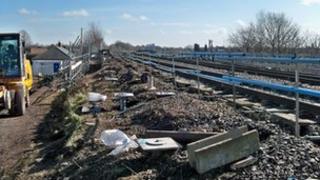 Disabled visitors to a Shropshire air show are being warned that the local station does not have wheelchair access, despite a recent £2m refit.
Cosford station reopened in April after a six month rebuilding project.
The organisers of the Cosford air show said they "cannot recommend" the station for disabled people or those who cannot manage steps.
Network Rail said it is not funded to "provide accessibility enhancements" at stations.
It said funding for this comes directly by the Department for Transport through their Access for All scheme.
A spokesman from the Department for Transport said the government would not provide the funding in this case because, under the code of practice , building around disabled access should already be factored into the redevelopment plans.
The reopening of the station was delayed by five weeks after the rail firm said it lacked "some very basic customer facilities", including a shelter and information screens.
Network Rail said the refurbishment involved demolishing the existing timber platforms and access stairs and replacing them with new platforms, waiting shelters, and lighting.
The platforms are reached by steel staircases, a spokesman said.