Shropshire community nurses face job cuts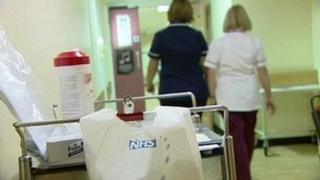 Nurses and health workers in Shropshire face cuts and changes to their jobs under plans put forward by the county's community health trust.
It is consulting about 1,200 staff over the restructuring which could see jobs downgraded as part of plans to save up to £4m a year.
About a dozen jobs could go, the trust said.
Some patients have protested via a Facebook group to planned changes to the role of community matrons.
Case managers, who will be registered nurses, are expected to take on many of those jobs, supported by community nurses and therapists.
Shropshire Community Health NHS Trust, which manages a budget of about £75m, works with GPs to provide a range of adult and children's services in the community.
Frontline services
Ted Wilson, Director of Service Delivery, said the trust had to find between £3m-£4m in savings due to government cuts.
He added that the plans, which also include "lean management", were designed to protect frontline services.
He said: "Clearly we want to keep our senior nurses and their experience and expertise, their knowledge and skills.
"Our senior nurses, including our community matrons are the lifeblood of our organisation.
"We want to make sure we keep those, but we want to also look at the delivery of services and hopefully enhance the quality of the service we provide."
A final decision on the proposals is expected to be made by the end of June.