Diamond Jubilee: Flags on Bromlow Callow in Shropshire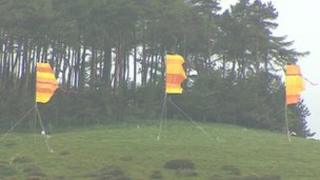 A Shropshire hill has been decorated in giant flags as part of celebrations for the Queen's Diamond Jubilee.
Residents in and around Hope have been working to make more than 200m (656ft) of bunting which has been put up on Bromlow Callow Hill.
About 30 flags are installed around a ring of trees, which organisers said they hoped would be seen for miles.
A tea party was held to mark the occasion.
Artist Kate Johnston came up with the idea and enlisted the help of several residents with sewing machines, who she said had "sewed and sewed" until they were finished.
See all the latest Diamond Jubilee news and features at bbc.co.uk/diamondjubilee